Presents
In association with IMPACT PARTNERS
A CREATIVE CHAOS VMG and THE BURROWS OF HOLLYWOOD production
After a routine partial hip replacement operation leaves his mother in a coma with permanent brain damage, what starts as a son's video diary becomes a citizen's investigation into the future of American health care. Shot over the course of ten years, using archival footage, verite scenes, undercover spy cams, courtroom testimony and interviews with family and experts, the award- winning, critically acclaimed BLEED OUT goes deep inside a flawed healthcare system. Part medical mystery and legal thriller, part investigative journey and meditation on family, this harrowing personal story is a cautionary tale that reveals medical error is the third leading cause of death in America.
See the one minute trailer here: www.hbo.com/documentaries/bleed-out
"Simultaneously timely and timeless."  Since its HBO debut, BLEED OUT has received tremendous acclaim, noting the film's important cautionary tale and empowering call-to-action.
"'BLEED OUT' is required viewing at a time when the future of health care looks dark indeed," noted Peter Keough of The Boston Globe. The New York Times declared BLEED OUT a "critic's pick," calling it a "sobering investigative documentary." Critical kudos from NPR to USA Today to MSNBC's Morning Joe, etc. continue to pour in, emphasizing the social injustice and failed policies of American healthcare devastatingly presented. 
Public reaction is overwhelming. Director Steve Burrows has personally received over 25,000+ emotional letters of support and solidarity from doctors, nurses, medical professionals, attorneys, patients and families across America. These sacred letters could make a stone cry – each one a film in itself. Screenings provoke standing ovations. Q & A's last longer than the film.
Scores of hospitals systems, elite universities, medical, nursing and law schools have made BLEED OUT part of their teaching curriculum – institutions like Georgetown University, University of Wisconsin, UCSD Medical School, Temple University, Marquette University, SFASU Nursing School, Covenant Health, Novant Health, MedStar Health, The New York Law School, etc. 
Esteemed non-profit healthcare organizations like The Leapfrog Group, the Medicare Advisory Group, Mothers Against Medical Error, Sorry Works, Society For Hospital Medicine, The Telluride Experience and The Patient Safety Movement Foundation have forged partnerships with Steve. The Global Neurosciences Institute announced BLEED OUT is now mandatory viewing. 
The film was awarded "Best Feature Documentary" as well as second place for "Best Medical & Health Reporting" by a blue-ribbon panel of distinguished journalists at the hallowed Los Angeles Press Club, proclaiming that "BLEED OUT is absolutely mind-blowing!"
Based on the incredible response from millions of viewers, HBO submitted BLEED OUT for five Emmys and the Peabody for excellence in broadcasting. The film has an 81% approval rating on IMDb, 86% on Rotten Tomatoes, 84% on Amazon and 93% on Google. Due to the unexpected social impact of BLEED OUT, HBO renewed the film for an unprecedented three more years!
Viewers across the country spontaneously petitioned lawmakers to watch BLEED OUT, forcing the introduction of citizen-driven legislation to protect the rights of all patients – as well as repealing existing restrictive and injurious laws. This has led to screenings at State Capitals, and on Capitol Hill in Washington D.C. for members of The United States Congress. This, in turn, led to Steve meeting President Joe Biden. A White House screening in the works.
Thousands of doctors, nurses and healthcare providers have personally apologized to Steve for the horrific care his mother Judie Burrows received, professing that her story and BLEED OUT will forever change the way they practice medicine.
After a medical conference, an army of doctors and nurses took a stand at the Lincoln Memorial and started the movement that now bears the name of Steve's Mom.  #WeStandWithJudie. 
We Stand With Judie (imdb.com)
The film has struck a deep nerve. The sense of urgency – palpable. A crusade is born. 
In the wake of COVID-19, the tenets of accountability and transparency presented in BLEED OUT have proven even more relevant and vital as ever. In the middle of the pandemic, the film was acquired by London's Noah Media Group for worldwide distribution – including Israel, Finland, Sweden, Norway, French Canada, Argentina and Taiwan to name a few. Embracing its universality, distributors have translated the documentary into multiple languages.
Sadly, Judie Burrows, the "Star" of BLEED OUT, lost her ferocious ten year battle to live on January 30, 2020, finally succumbing to her injuries. Her multitudes of fans were devastated.
Mom of HBO's Bleed Out filmmaker Steve Burrows dies 11 years after hip surgery, brain damage (usatoday.com)
Directly after screening BLEED OUT, the Wisconsin State Medical Examiners Office requisitioned all medical records from the hospital where Judie Burrows was injured at and, in a rare rebuke, changed Judie's official cause of death from "natural causes" to "accidental" due to complications from medical error. 
So moved by the tsunami of real world responses from the medical community to Judie's story, the preeminent Patient Safety Movement Foundation created an annual humanitarian award for excellence in service to patient safety named "The Judie Burrows Humanitarian Award".   The first recipient was Judie's son, Steve. Previous PSMF Humanitarian Award winners include President Joe Biden and President Barack Obama. 
The prestigious Washington D.C. based healthcare watchdog icon, The Leapfrog Group, went one step further, naming their newly minted National School For Patient Safety after Judie.  "The Judie Burrows Education Institute" will break ground in March 2022.
Three bills directly inspired by Judie and BLEED OUT began making their way into law.
And after twelve years of radio silence, the new CEO of the healthcare system that injured Judie reached out to Steve to see if there was some way for both par-es to meaningfully work together to increase patient safety and prevent medical error in Judie's name. Stand by…
BLEED OUT is a wake-up call-to-ac-on for systemic medical reform. The truths uncovered are inspiring a state, national and international outcry to fix the medical industrial complex by changing laws and making policy to improve safety for patients and caregivers alike.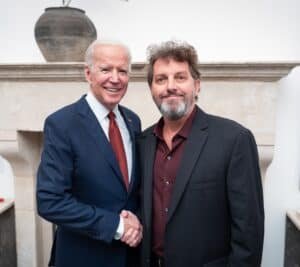 As Dr. David B. Mayer of The MedStar Institute for Quality and Safety unequivocally stated, "BLEED OUT is literally saving lives."  How many films do that?
WINNER – "BEST FEATURE DOCUMENTARY" & "BEST MEDICAL & HEALTH REPORTING"  THE LOS ANGELES PRESS CLUB
" BLEED OUT is absolutely mind-blowing. Great storytelling!"
NEW YORK TIMES : CRITIC'S PICK   
"Comedy director Steve Burrows' sobering investigative documentary."
BOSTON GLOBE  
"Brightened by rueful humor, this Kagkaesque nightmare is required viewing."
MSNBC MORNING JOE  
"BLEED OUT is a dramatic, vital story everyone will relate to. Personal and universal."
NPR WEEKEND EDITION  
"The film is a deep dark dive into the heart of America's health care system."
PASTE MAGAZINE  
"HBO's BLEED OUT is brutal, unmissable viewing."
MILWAUKEE JOURNAL SENTINEL: FRONT PAGE  
"Surgeon stands by 'goddamn sloppy medicine' comments in HBO Doc."
CINESOURCE  
"A powerful clarion call for reform, accountability and transparency in America."
UNIVERSITY OF WISCONSIN LAW SCHOOL  
"Extraordinary. Honesty, courage and intelligence meets vulnerability… irresistible."
CENTER FOR JUSTICE & DEMOCRACY  
"Funny, tragic, entertaining and completely relatable."
NEW YORK LAW JOURNAL  
"The film is excellent, poignantly portraying the emotional torture of brain damage."
NOW THIS NEWS  
"An incredible, chilling documentary." (500,000+ views)
THE PATIENT SAFETY MOVEMENT FOUNDATION
"A profound documentary… eye-opening, a MUST-SEE. #WeStandWithJudie"
THE LEAPFROG GROUP  
"Powerful, memorable, compelling… this film is a timeless, transformative game-changer."
DOC NYC  
"A provocative, enraging David vs. Goliath cautionary tale."
AIR AMERICA RADIO  
"Absolutely blown away… an amazing story, amazingly well told."
BEST DOCUMENTARIES OF THE YEAR: NEW YORK METRO USA  
"Life is messy, complicated and best told by the people who lived it. Enter BLEED OUT." 
On same list with Academy & DGA Award nominees  "RBG" and "Won't You Be My Neighbor?"
REUTERS
"Incredibly powerful and exceptionally well done. Courageous."
MEDSTAR INSTITUTE FOR QUALITY & SAFETY
"This film is changing hearts and minds at the highest level of healthcare and health policy."
FILM SCOTLAND/UNITED KINGDOM
"A brilliant, surprisingly uplifting film. A seismic achievement."
GEORGETOWN UNIVERSITY MEDICAL SCHOOL
"Profoundly impactiful. The missing piece that fully demonstrates the consequences adverse events have on patients and families – especially after they leave the hospital."
MOTHERS AGAINST MEDICAL ERROR
"Amazing. Devastating. Must see. The first film ever to capture medical error in real time from start to finish."
VICE ADMIRAL BONO, DIRECTOR DEFENSE HEALTH AGENCY, U.S. NAVY
"An incredible tribute to a Mother whose resilience and fortitude is making our healthcare system safer for all patients."
THE GLOBAL NEUROSCIENCES INSTITUTE
"Stunning. A singular, one-of-a-kind film that is forcing necessary change in the culture of medicine."
MILWAUKEE FILM FESTIVAL
"A startling, eye-opening, frustra-ngly American doc. A rare film that saves lives."
NOAH MEDIA GROUP, LONDON
"We are delighted to internationally represent the award-winning, critically acclaimed HBO documentary BLEED OUT directed by Steve Burrows and produced by Oscar-winner Dan Cogan."
NORDIC LABOUR FILM FESTIVAL, SWEDEN
"No words to describe this American tragedy. Riveting."
FINLAND PBS
"Warm, funny, sweet, caring, devastating, terrible, jaw-dropping."
ISRAELI TV
"A remarkable achievement. The tears won't stop. Disturbing."
FRENCH CANADA PBS
"Savage. Witty. And deeply touching. Look out, Goliath."
COVENANT HEALTHCARE, MI
"Emotional. Thought provoking. Inspiring. We screen BLEED OUT for the executives at all our hospitals to help improve healthcare and patient safety and it is making a real difference."
REPRESENTATIVE CHRISTINE SINICKI, WI STATE ASSEMBLY
"Mind blowing. BLEED OUT is helping to force critical, citizen-driven legislation for accountability and transparency in medicine, including the 'Black Box Bill'."
HOUSE OF POD : A MEDICAL PODCAST
"Amazing, personal, funny, tragic, raw. It's par-cularly important if you are a doctor or a nurse."
WORLD HEALTHCARE CONGRESS
"Fierce, vital, whip-smart, invigora-ng, no BS. Amazing how one documentary can challenge an entire system to change."
UNIVERSITY OF CALIFORNIA SAN DIEGO MEDICAL SCHOOL
"Maddening, touching, unbelievable. Now a part of our medical school curriculum. Humbled by patients and families doing the work our profession should have done."
WISCONSIN FEDERATION OF NURSES AND HOSPITAL PROFESSIONALS
"The issues chronicled and the horrific experience that Judie Burrows endured are lessons for all of us in the medical profession."
CONNECTICUT CENTER FOR PATIENT SAFETY
"What a privilege to watch Bleed Out. It provoked anger, frustration, heartache, solace, humor… We are using this beautiful, important film in our ongoing teaching curriculum."
NATIONAL ASSOCIATION OF HEALTHCARE INSURANCE UNDERWRITERS
"Not only informative and educational but a poignant, hopeful tale that runs deep… about love, devotion and the close bonds between a mother and son. This is a film we will never forget."
SOCIETY OF HOSPITAL MEDICINE
"The film has true synergy. We need to keep the momentum that BLEED OUT has started."
SORRY WORKS: DISCLOSURE & APOLOGY LEADERS
"Blown away. Burrows does a masterful job sharing the horrors of medical error. Make no mistake, he and BLEED OUT are giants in the world of patient safety, disclosure and apology."
PATRICK MACMANUS, EXECUTIVE PRODUCER OF NBC's HIT TELEVISION SERIES "DR. DEATH" "Saw Bleed Out and was floored. I was torn between laughing and crying. Honest, demoralizing and hopeful all in the same breath. Hopeful people like Steve Burrows exist in a world like this."
INTERNATIONAL HEALTH & WELLNESS SOLUTIONS
"The HBO documentary Bleed Out will always undoubtedly be a pivotable historical moment in the narrative of modern medicine. What a legacy for Judie Burrows."
USA TODAY
"After 11 year battle to survive medical errors, the 'Star' of acclaimed HBO film BLEED OUT dies. Judie Burrows, 1940 – 2020. Born a teacher, died a teacher."